Hammonton, NJ – November 2008 – On November 11, 2008 outstanding South Jersey women were honored at the NAWBO 6th Annual Beyond the Glass Ceiling Award Dinner. EPP has been proud to sponsor the event since its inception in 2003.  EPP is a Women-Owned Business, led by its founding partners, Eileen Unger and Pat Goelz. EPP specializes in helping organizations guard against the unexpected through sound planning and emergency exercises. Its clients include major public utilities, nonprofit organizations and private businesses.
"It is so wonderful to honor the achievements of individuals who have made a mark in their professions and in their community. It's a time to reflect on past accomplishments and acknowledge the great things to come. These are people that didn't fixate on an invisible barrier that could get in their way, they focused on the possibilities," said Eileen Unger, President of the Chapter, and President of Emergency Preparedness Partnerships.
Women-owned businesses contribute nearly $3 trillion to our national economy and create or maintain 23 million jobs according to new research conducted by the Center for Women's Business Research and funded by the National Women's Business Council and Wal-Mart. The study also noted that women-owned firms employ or generate a total of 16% of the jobs in our nation's economy.  This is why south jersey women business leaders can really make a difference.
Each year the NAWBO honors individuals who have used their influence and talents to directly contribute to issues impacting South Jersey women business owners. These individuals or companies have demonstrated leadership roles in their professions, been active in their communities, and served as mentors and role models for women business owners and other business professionals.
According to the Center for Women's Business Research, nearly 10.4 million firms in the U.S. are owned by women, employing more than 12.8 million people and generating $1.9 trillion in sales. Women of color own an estimated 2.4 million firms, employ nearly 1.6 million people nationwide, and generate $230 billion in sales (as of 2007). The report also indicates that, for the past two decades, majority women-owned firms have contributed to growth at around two times the rate of all firms. "South Jersey's numbers are just as staggering," said Unger.
About NAWBO
Founded in 1975, NAWBO propels women entrepreneurs into economic, social, and political spheres of power worldwide.. The organization's mission is to strengthen the wealth-creating capacity of its members and promote economic development; to create innovative and effective change in the business culture; to build strategic alliances, coalitions and affiliations; and to transform public policy and influence opinion makers.
NAWBO South Jersey serves the needs of women business owners in Burlington, Camden, Gloucester, Cumberland, Salem, Atlantic, Cape May counties and portions of Mercer County.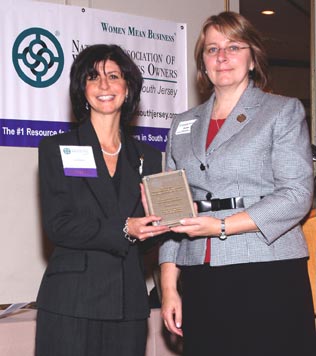 Lyn Kremer of the Philadelphia Business Journal and NAWBO-South Jersey President, Eileen Unger of Emergency Preparedness Partnership