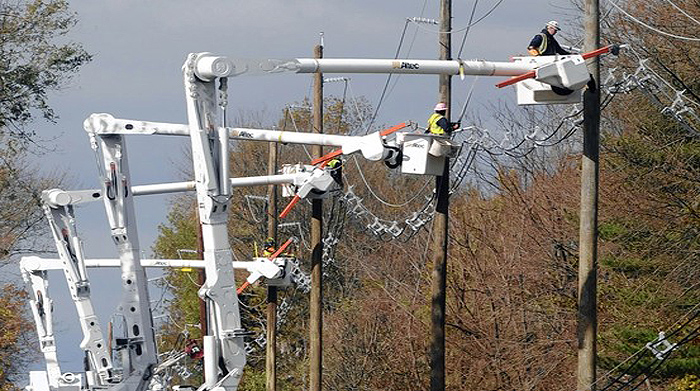 We all need a helping hand sometimes, and utility companies are certainly no exception. No matter how well prepared your company is when it comes to responding to outages, it's a whole new ballgame when hundreds of thousands of people are without service following a major hurricane, tornado, earthquake, act of terrorism, or similar event. During these types of exceptional circumstances, internal resources are often not enough, and why mutual assistance is so critical.
Mutual assistance is like the cavalry coming to save the day during a major restoration effort. Mutual assistance basically means "borrowing" employees from other utilities that were not hit quite as hard with the storm. The idea is that utilities can work together to share resources when and where they are needed most. When called upon, a utility will send skilled restoration workers and specialized equipment to help with the restoration efforts of a fellow utility. Arguably the largest and most widespread use of mutual assistance was during Hurricane Sandy – tens of thousands of restoration workers across a whopping 80 utilities were called upon to help.
Most mutual assistance programs are run regionally, and these are known as RMAGs or regional mutual assistance groups, although there are a few national ones as well. But no matter where mutual assistance resources originate from, the logistical considerations are always the same. And the main consideration is how to organize, deploy, and track these resources to maximize their efficiency and effectiveness.
Herding Cats or Coordinating Mutual Assistance Resources?
As you might imagine, coordinating external resources for outage restoration is tricky. And unfortunately, there is no silver bullet approach. This is why it's incumbent upon all utilities to create a mutual assistance plan. This plan will differ for every company, but the questions that need to be asked during its development are typically pretty similar. These might include some or all of the following:
Requesting Help
What are the triggers that would prompt requesting mutual assistance resources?
How will you request mutual assistance resources?
How much time do mutual assistance resources have to respond following a request?
What equipment will they be required to have or bring?
What is the expected length of their stay?
Upon Arrival
How will these resources be checked-in upon arrival?
What will these resources need to know upon arrival?
How will you handle the safety briefings?
How will mutual assistance resources be fed and housed?
What happens if there is a travel ban?
Will they need ID cards?
During Their Stay
Who will manage these resources?
Who will develop work packages to ensure they can go to work?
How will the mutual assistance personnel communicate with you while they are there?
When and how will they be sent home?
And the list goes on and on. The important thing to remember is that mutual assistance resources are essentially out-of-town guests. So from a planning perspective, it's helpful to flip the template – think about what, if you were coming to an unfamiliar location, you would need to know upon arrival. Thinking about it this way is an excellent method to develop your list of questions…and subsequently the plan.
Final Thoughts on Mutual Assistance
I really like the analogy of herding cats when thinking about corralling mutual assistance resources, but the good news is that managing the logistics around mutual assistance is a lot easier than herding cats! The key is planning – put yourself in the shoes of a mutual assistance employee and identify what questions you might have upon assignment/arrival, as well as any possible pain points. Then develop mutual assistance plans and processes in a way that answers as many questions – and reduces as much potential pain – as possible.