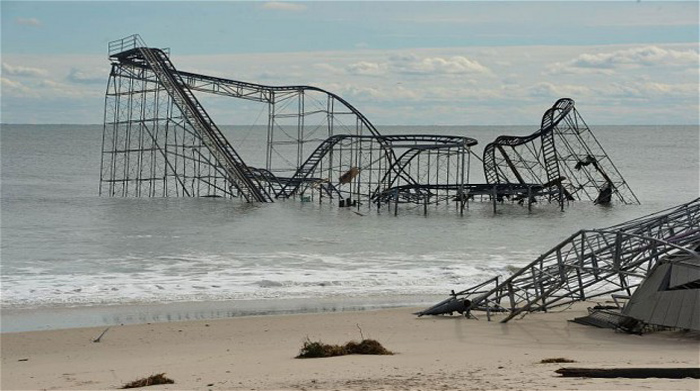 Hurricane Sandy (unofficially known as "Superstorm Sandy") made landfall on New Jersey on October 29, 2012. The impact on my home state was devastating – 2.4 million outages, 350,000 homes damaged or outright destroyed, 113,000 trees destroyed, 37 deaths, and billions of dollars in economic losses. Of course, the catastrophe was not limited to New Jersey, but the combination of high winds, extreme rainfall, unprecedented storm surge, and incredible flooding made this storm probably the worst New Jersey has ever experienced. Some people were without power for weeks, and to this day there are still Sandy-damaged homes that have not been rebuilt.
Yes, Hurricane Sandy was unique, but let's face it – it's reasonable to assume that storms in general are only going to get more intense over time thanks to climate change. If nothing else, Sandy should make everyone realize that it's not if, but when the worst-case scenario will happen. So the question is – did we learn anything from Sandy? Well, in my opinion, the answer is a resounding 'yes.'
The Aftermath of Hurricane Sandy – What has Changed?
First and foremost, the storm really jolted people into taking emergency preparedness more seriously. Sandy was a wake-up call – individuals and organizations have ramped-up their emergency preparedness efforts. Organizations now have a better grasp of the reality that it's never a good idea to underestimate the degree of risk associated with a major weather event. You can hope for the best, but you better make sure you prepare for the worst.
Another positive change is that organizations have refined their communication protocols. I remember in the weeks after the storm, people had to wait in line for hours at gas stations to fuel up. About 70% of the gas stations on the eastern side of New Jersey and New York were flooded, so the few gas stations that remained open experienced long lines. Because people didn't expect such lengthy wait times, tempers flared. Had the fuel shortage been properly communicated, expectations would have been more in line with reality and there may have been fewer conflicts. Same goes for utilities in terms of how restoration progress and ETRs were communicated to the general public.
On the electric side, the process to scale up the Regional Mutual Assistance Group (RMAG) process to a national level led to the development of the National Response Event framework by the Edison Electric Institute (EEI), underscoring the critical importance of mutual assistance to the industry.
Natural gas utilities experienced significant challenges to utility systems arising from water or flood emergencies over the past two years – from tropical storms to winter nor'easters, to water main breaks that flooded major urban downtown areas. As a result, flood emergency planning became an increasingly important part of a natural gas utility's emergency planning strategy.
All municipal and public utilities had to deal with the issue of customers that simply weren't there after Sandy. Or those customers that couldn't accept utility service due to the extent of the damage.
Finally, there is now more focus on shoring-up the infrastructure in ways that will improve long-range reliability. Obviously it's not possible to design a hurricane-proof utility system, but utilities are now undertaking cost-effective actions to reduce potential outages and speed up restoration in the event of a catastrophic disaster.
It's hard to believe that it's been two full years since Hurricane Sandy pounded the East Coast of the United States. Hurricane Sandy was a whopper of a storm, and there is little doubt we'll see a similarly catastrophic event sooner or later. So remember the devastation, and always use that as a benchmark for developing more effective and efficient ways to handle storm restoration – prepare for the worst, but hope for the best.