Hammonton, NJ – June 2006 – If South Jersey entrepreneurial leader Eileen K. Unger, P.E. has her way, every business would design and implement an emergency preparedness strategy. Her bold vision is what led Wells Fargo and the National Association of Women Business Owners (NAWBO) to recognize Unger's work on emergency preparedness when she received a prestigious Trailblazer Award during NAWBO's national conference held in San Francisco on June 2, 2006.
The presiding partner and co-founder of Emergency Preparedness Partnership (EPP) received a $5,000 check as part of the Fifth Annual Wells Fargo Trailblazer Award recognition, which honors businesswomen for innovation and making significant contributions in creating new paths of leadership for the business community.
Joy Ott, Wells Fargo Bank Regional President in Montana presented Unger, 47, with the award check and introduced her segment with a video highlighting the achievements of the three winners. "Talent and passion are at the core of all women business owners and this award recognizes and honors those attributes," said Ott. "It is a privilege for us to celebrate the women who personify the entrepreneurial spirit. This year's winners are truly inspirational — we applaud and thank them for continuing to inspire the entrepreneur in all of us."
Joining Unger in receiving the prestigious award were Florida-based Accredited Surety and Casualty owners Deborah and Sharon Jallad and Chicago-based BrightStar Health Care CEO Shelly Sun.
"When I formed my company in January 2001, I could not envision that 9 months later, the World Trade Center would be attacked," said Unger. "Imagine what would happen to our businesses if every record was destroyed and we lost the ability to regroup after a natural disaster or terrorist attack. My message is clear: start now to build a plan that will help deal with the unthinkable. I am humbled that Wells Fargo and NAWBO would highlight the work of Emergency Preparedness Partnerships as an innovator and trailblazer."
Wells Fargo launched the Women's Business Services program in September 1995 to build relationships with women business owners and increase access to capital and financial services. Since then Wells Fargo has lent more than $25 billion nationwide to women business owners.
With an average loan of less than $40,000, Wells Fargo has extended more than 600,000 loans to women business owners nationwide over the last ten years.
Wells Fargo cited Unger's company as uniquely positioned to address the need for emergency planning. In their press announcement, Wells Fargo said, "After realizing the growing need for companies to have concrete emergency-ready plans in place, Eileen Unger started Emergency Preparedness Partnerships in January 2001. Nine months later, in the wake of September 11, the need for companies' emergency preparedness took on increased importance. The company works with utility companies, hospitals and a variety of businesses to ensure they have plans and standard operating procedures in place that prepare them for the unexpected. Emergency Preparedness Partnerships offers a wide array of services that address the needs of both large and small companies."
With a B.S. in Civil Engineering from Rutgers University, and a M.S. in Engineering Management from the New Jersey Institute of Technology, Unger is a licensed professional engineer in NJ. Prior to founding EPP, she worked with Conectiv Solutions, a non-regulated subsidiary of Conectiv, and developed the company's Y2K vulnerability analysis and preparedness plan. Prior to joining Atlantic Electric/Conectiv, she worked for Bechtel Construction Co. at the Hope Creek Nuclear Generating Station, and United Engineers and Constructors.
The six year-old firm has grown to be a regional leader in emergency preparedness services. In October 2005, Unger was appointed to the New Jersey Industrial Safety Committee. Unger also serves on the Municipal Utilities Advisory Board in Hammonton, NJ and is the Executive Director of the New Jersey Emergency Preparedness Association (NJEPA). On the Board of Directors and Treasurer for the NAWBO South Jersey Chapter, she is active in the American Society for Industrial Security, the New Jersey Utilities Association, Network of Women in Computer Technology, the Contingency Planning Exchange and the Chamber of Commerce of Southern NJ.
In addition to this Trailblazer Award, Unger has been honored by NJ Senator Diane Allen as part of the 2005-2006 NAWBO SJ Board of Directors, was named by NJ BIZ as one of its 2005 Women of Influence and recognized by SJ Magazine as one of "Twenty-Four People to Watch in 2004." EPP was honored by the New Jersey Emergency Preparedness Association for its Long Standing Support during its 2003-2006 annual conferences. Stories about Unger and EPP's leading advocacy role have been published in NJBIZ, and SJ Magazine. Additionally, she served as a speaker at the National Association of Water Companies, the American Society of Safety Engineers, NAWBO SJ and she recently participated on a panel on Emergency Planning for the Chamber of Commerce of South Jersey (CCSNJ).
Unger thanked her team of professionals for helping her business succeed. "It takes a great team to enable a founder's vision to be fulfilled," said Unger. "Each associate contributes uniquely to all aspects of company operations, and their roles have resulted in further recognition for EPP. I thank them for building our company's message and profitability."
Unger, an engineer and former electric utility leader, is an avid motorcycle rider. She is a woman-owned business in a traditionally male-dominated field and has paved the way as a role model for other prospective women business owners who want to open new businesses.
"I encourage women who want to pursue entrepreneurship to contact me about NAWBO SJ and discuss how our business advocacy organization can help women grow their businesses," said Unger, a 2006 Enterprising Women of the Year Award Finalist. "Please e-mail me at eunger at emergencypreparednesspartnerships.com or call me at 609-704-0266 if you would like to discuss NAWBO as a dynamic resource to help create success for your business concept. Thanks to NAWBO, my company has been able to draw upon a pool of women business owners to help it fill service needs."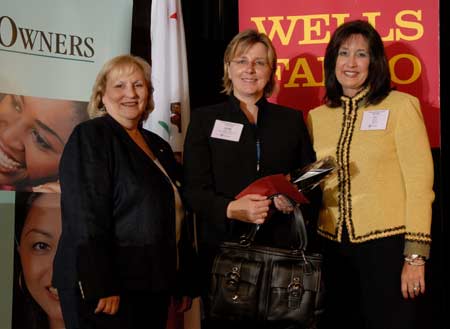 (from left to right): NAWBO President, Carol Kuc; Eileen Unger, EPP; Joy Ott, Wells Fargo Regional President Montana