Hammonton, NJ – May 2006 – "A surprising number of organizations large and small, public or private, profit or nonprofit generally share an alarming problem: inadequate planning for emergencies." That's the message Eileen Unger, a partner at Emergency Preparedness Partnerships, sent as a panelist for the program "Emergency Planning: Will You Be Ready When Disaster Strikes?" held by the Chamber of Commerce Southern New Jersey on May 31, 2006 at the Hilton, Cherry Hill, New Jersey.
"The problem is that emergencies can be, by their nature infrequent and unpredictable," explained Unger. "As a result, an 'out of sight, out of mind,' mindset can set in. With too many organizations, emergency planning becomes a priority only after an emergency has struck."
The Chamber of Commerce Southern New Jersey (CCSNJ) is the regions most active and influential business organization. With more than 130 years of service to businesses throughout the Southern New Jersey, Greater Philadelphia and Northern Delaware, CCSNJ provides members with: opportunities to meet each other and do business; resources to enhance their position in the marketplace; and a collective voice on public policy issues that impact operations and profitability.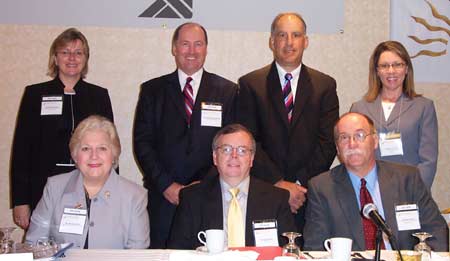 Pictured from left to right: Eileen Unger, President, EPP; Anne Sceia Klein, President, Anne Klein & Associates; George Matteo, Jr., President, Chairman & CEO, Cornerstone Bank; James Grogan, Vice President, SunGard Availability Services; Reynold Cicalese, Managing Partner, Alloy Silverstein, Shapiro, Adams, Mulford, Cicalese, Wilson & Company; Dr. Robert Fleming, Rowan University; and Kathleen Davis, Executive Vice President and COO, CCSNJ.