Hammonton, NJ – December 2006 – Recognized for her longstanding leadership as an advocate for women entrepreneurs and a nationally honored business visionary, Eileen K. Unger received significant honor in Philadelphia on December 6, 2006. Named one of the Philadelphia Business Journal's 25 Women of Influence, Unger joined with over 700 business executives to celebrate the leadership of women entrepreneurs who were described by the business journal as "Future Legends". The program was sponsored by Drexel University's LeBow College of Business, Wachovia, Ernst & Young, Vistage, Liberty Mutual, and AETNA.
Unger is a natural choice for this nomination, having successfully launched her own utility consulting company in 2000.  Her 30+ years of experience in the electric utility industry set the stage for her own venture, and she is proud to be considered as one of the top women entrepreneurs in the Philadelphia region.  Her dedication and commitment to helping utilities optimize the process of "getting the lights back on" has received much recognition over the last 5 years.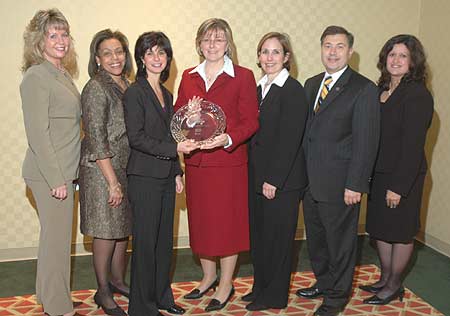 Pictured from left to right: Janice Washeleski, AETNA; Denise McGregor-Armbrister, Wachovia; Lyn Kremer, Philadelphia Business Journal; Eileen Unger, EPP; Sally Sollis-Cohen, Vistage; George Tsetsekos, Dean of Drexel's LeBow College of Business; Caren Latona, Liberty Mutual.  All are current nominees for the prestigious award.