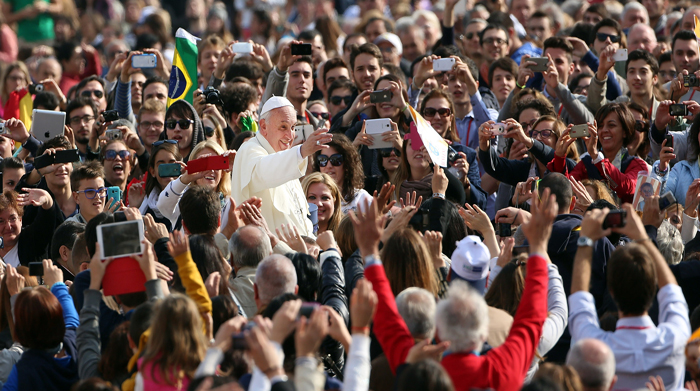 What does Hurricane Sandy, a visit from Pope Francis, and an ice storm have in common? The answer is that each event requires utility companies – water, gas and electric – to have a plan. Yes this is obvious for storms, but sometimes we tend to underestimate its importance in the context of planned events like the 2015 papal visit to the U.S. But make no mistake, each type of event requires a similar level of emergency preparedness.
Although I'm going to focus much of this article on the planning that went into the U.S. papal visit, I want to emphasize that this is just one of many examples of a large-scale planned event. Other examples include, but are not limited to:
The President of the United States making a visit to a major city as part of the campaign trail
The Macy's Thanksgiving Day Parade
New Year's Eve in Times Square
A global economic summit, like the one that was held in Honolulu several years ago
Republican and Democratic National Conventions
The Super Bowl
Mardi Gras in New Orleans
PECO's Pope Plan
The pope's visit to Philadelphia in September 2015 illustrates why it's important for utilities to plan for events of this magnitude. The city's energy utilities spent countless hours preparing. In fact, PECO Energy Co., which provides electric service in the city, had been planning for 6 months leading up to the event. PECO went on record saying that it prepared for the event as if 30 inches of snow were coming.
But the company's specific areas of focus might surprise you. You see, PECO was not concerned with infrastructure damage or unusually high loads; rather, it was concerned about the sheer volume of people in the city, road closures and traffic restrictions, which would have made it extremely challenging to respond to any emergency that might have occurred during the pope's visit.
The key elements of PECO's plan included:
Four staging areas were set-up to station utility equipment and crews during the event.
Nearly 150 PECO employees were assigned to work 12-hour shifts in the "traffic box" (the 3.5-square-mile area representing the heart of the event).
Customer service operations and other functions located in downtown Philadelphia were relocated to backup locations in the surrounding suburbs.
More than 220 manhole covers within the Secret Service-designated security zone were sealed
Preventative maintenance was conducted on the distribution network, as well as first-priority locations like federal buildings and hospitals, to make sure everything was in good working order.
Portable generators were provided for all outdoor stages and audio and video systems to prevent a surge in demand.
A contingency plan was developed in case of a thunderstorm or nor'easter hitting during the event.
A "tent city" was constructed to accommodate 150 utility and/or mutual aid line workers – a necessary step given that all hotel space in the city was full.
Other Considerations for Large-Scale Planned Events
The bottom line with planned events of this magnitude is that utilities must be ready for worst case scenarios – things such as assassination attempts, terrorist attacks and even cyber attacks. These scenarios can lead to injuries, fatalities, property damage, loss of revenue for the event, increased liability due to negligence, and deterioration of reputation. As such, utilities need to follow as many best practices as possible when preparing for such an event. Some of these best practices include:
Ensure that timely and effective planning, communication, and training are prioritized. For the largest events, it is recommended to start pre-event planning up to 12-18 months in advance.
Structure the planning around 3 phases – pre-event planning, event management, and post-event activities.
Plan for the worst-case scenario but don't forget about the more mundane scenarios such as vandalism and alcohol-fueled disruptions.
Collect as much information about the planned event as possible – floor plans, layouts, evacuation plans, road closures, transportation decisions, access control plans, parking areas, airspace security, credentialing, FBI and Secret Service security protocols, etc.
Determine if the event requires any changes to policies or protocols, and document any temporary procedures as needed.
Create policies and procedures for all partners, governing officials, private security, the local business community, and others to communicate regularly on event planning and management.
Assess the emergency plans of key event hotels. Interview hotel security staff for plans.
Develop and setup an Incident Command System (ICS) with a central Emergency Operations Center (EOC) to manage resources and decisions.
Test all internal communication channels in advance.
Ensure proper check-in and briefing protocols.
Bottom Line on Planned Events
The pope's historic visit to the U.S. is a good reminder that utility companies can't be too prepared. Planned events like this require just as much planning as large-scale storm events. While the specific tactical risks differ, in all cases it's about being as prepared as possible to prevent an emergency from becoming an outright disaster. Because if that happens, even the pope won't be able to save you!